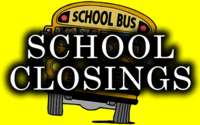 GHAPS school system has the following school
closings, delays and half days in February 2014:
Thursday, February 6th: Delayed Start
Wednesday, February 26th: 1/2 Day
Thursday/Friday February 27th, 28th: No School
Do you have plans for your school ager to attend Joyful Noise? Please let us know your scheduling needs right away so we can make sure we plan in accordance.
We'll be having lots of fun on our in service days, and as always, meals and snacks are included in tuition.
Give us a call at (616) 847-6600 or email the office at Office@JoyfulNoiseKids.com!